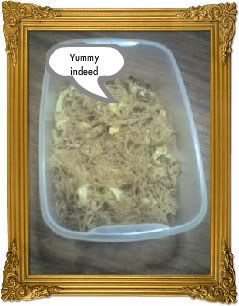 As I was cleaning the house this morning, I found out that there is still left over Pansit Bihon (noodles) on top of our refrigerator.

Actually

, it was bought early this year. Rather than letting it go to waste, I decided to cook it.
I do not have chicken to go with the pansit noodles. What I did is to try some alternatives. I still have tuna left and maybe, this will be a good alternative. Instead of chicken, I am going to use tuna.
The taste was not really so bad. The only garnishing that I used was cabbage. I do love the taste. Tasteful and yet, economical.
1) Saute Garlic, Onion
2) Add Tuna without the Oil
3) Add Water (desired amount)
4) Add the Cabbage
5) Add the Pansit Noodles